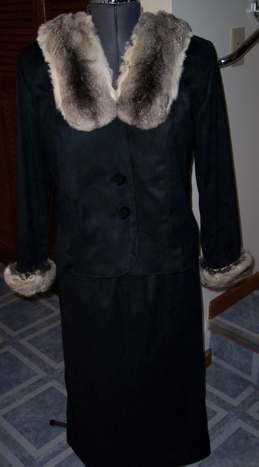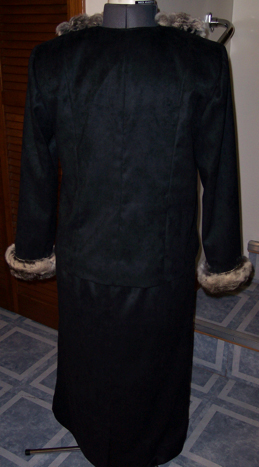 Bev's brother raised chinchillas. She brought me three pelts to see what could be done with them. After custom designing this well-fitting, fully lined suit from a beautiful suede fabric, the detachable collar and cuffs were added. Two pelts were used on the collar and the third was split lengthwise for the detachable cuffs. This not only allowed Bev to use the gorgeous pelts, but the suit can also be given another look without the furs. A complimentary colored modesty panel insert can be added instead of adding the bulk of a blouse.
Haute couture garments are so special that some cost as much as luxury cars and small houses. Exquisite construction techniques are used for these garments. They really are different from those used in home sewing and in the ready-to-wear industry. I use these same principles in my custom sewn garments.
I find sewing by hand and with couture techniques extremely rewarding. Hand stitching gives more control of the construction of your garment. The pleasure of both making & wearing beautifully constructed garments far exceeds the time and effort required to complete them.
Literally translated, the French phrase haute couture means "sewing at a high level," but a better translation might be the "finest high-fashion sewing." Although the haute couture designs shown on runways in Paris, Rome, London, and New York are too expensive for most pocketbooks, their influence on styles, colors and accessories echoes through out the women's clothing industry worldwide. Couture garments are simply the most beautifully made in the world.
Haute couture begins with strong, innovative design – the couturier's ability to interpret the mood of the time for the mode of the world. Whether classically styled or exaggerated, couture designs rely on such basic design principles as proportion, balance, color and texture.
Maintaining the integrity of a design, while making adjustments to suit a client's figure and personal preferences, is a delicate balancing act. I will go to great lengths to do both. "Couture designs are enhanced by beautiful fabrics and made with exclusive patterns. Buttons are often custom-made as well." On the soft blue suede suit below and in the Photo Gallery, I hand beaded the buttons. This same suit has a hand-picked zipper, embellished with beads to match the buttons.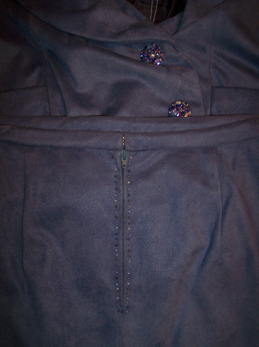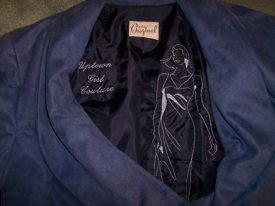 "Impeccable craftsmanship is a hallmark of haute couture. Every facet of a garment is treated with equal respect and attention, whether it's a perfectly rolled collar on a suit jacket or the seam allowances on a blouse finished with minute, evenly spaced, hand-stitched overcastting that no one but the client will see. This attention to detail is the essence of haute couture, and it begins long before the fabric is cut. With the help of a muslin pattern, or toile, every design is planned so that motifs, stripes or plaids are not only matched, but also positioned most attractively for the client's figure. At garment openings, floral motifs match so perfectly that you have to look twice to see the fasteners, and on suits and two-piece designs, the fabric pattern continues uninterrupted from neck to hem. Yves Saint Laurent does this expertly. All the hand sewing that goes into making a couture garment distinguishes it from a comparable design in luxury ready-to-wear.
You'll be measured from head to toe – about 30 measurements altogether. Muslin is draped, molded and pieces are pinned to the padded dress form, creating your design and fit, to accommodate, flatter and fit your individual figure.
After the muslin for your garment has been cut, the garment sections will be marked. Then, almost every detail of the design, including the hem, zipper and sometimes even the lining, is hand basted for the first fitting.
About two weeks after you've ordered your garment, you'll have your first fitting to evaluate the fit and design of your garment, marked with any necessary adjustments. Seams are then ripped apart & the sections laid flat. Corrections marked during the fitting are made on the garment sections. When necessary, a new garment section is cut to replace one that can't be corrected. If the garment has embroidery, beading or another type of embellishment, it's done at this point. Then the corrected and embellished garment sections are rebased, pockets added and the permanent stitching is completed on seams and details that don't require further fitting.
At your second fitting, the garment is checked to be sure it fits and hangs correctly, and any minor adjustments are indicated so the design can be completed. If the design is very complex or your figure is difficult to fit, there may be additional fittings.
Although heavily embellished designs may require several months to complete, most designs are finished in one to two months, depending on the details of the garment.
When your garment is completed, you'll have your final fitting, and assuming all is well, the label will be sewn in. It's considered bad luck to sew it in before the final fitting. If you lose or gain weight, the garment will need to be altered."
Shaeffer, Claire B., Couture Sewing Techniques, 1993
"I know one thing for sure. Designers have a passion, a burning desire to create, to experiment to try. In my study of The Couture and of specific designers, a common thread emerges. They want to design no mater what. Their families thought they should be doctors or lawyers or in the diplomatic corps – and some tried, but sooner or later, one way or another, they pursed their passion. Those who love to sew feel it deeply. Yes, there are other responsibilities, a complexity to our lives, time rushing on at breakneck speed, but the passion to sew is relentless. As seamstresses, we look for direction, inspiration, and ideas from The Couture. Everything is possible in The Couture."
Carr, Roberta, Couture, The Art of Fine Sewing, Palmer/Pletsch, 1993
Couture sewing means creating with the best of fabrics, using the techniques of the Paris designers, outstanding workmanship, fine details inside and out, all combined with care, patience and time."
Nelda Jones, Couture, The Art of Fine Sewing, Palmer/Pletsch, 1993
Couture or Custom Sewn, your garment will be given all the attention to fine details required to make your garment fit you in all the right places. Nothing feels better than a well tailored garment made just for you.
It is essential to wear all proper undergarments and shoes intended to be worn with the finished garment to all fittings.